THIS T-REX COSTUME IS ALL THE RAWWWWRRRR!!
The Tyrannosaurus Rex is the big mean predator that all little kids love to see with it's powerful jaws and sharp eyes. They have a vicious look that is way more cool than it is scary.
➤ Included in this set are gloves, shoe covers, a large blow up bodysuit and a battery operated fan.
➤ The suit is shaped just like the body of the dinosaur including the small arms, large legs and neck, big tail and large head that make up the creature.
➤ The gloves are designed after its claws and the shoe tops are just like the feet of the beast. With this costume on your son will look just like the prehistoric animals he loves to see in the Jurassic World movie.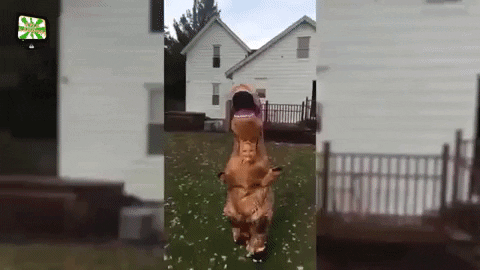 SIZING:
Suitable for the adult between 4.9′(1.5M) to 6.2′(1.9M).
Suitable for the kids between 3.6′(1.1M) to 4.59′(1.4M)
HOW TO USE:
"My daughter LOVED this costume!! She wore this to school and walked all over campus. People are laughing and smiling, taking pictures and recording; some even took pictures with her! It was honestly the best day ever. Even down to administration, they all enjoyed the costume. It was really fun. The funniest thing is the way the legs are made, you still "waddle" and it's so freaking adorable and funny. This is totally worth the money!! I recommend this to EVERYONE!"
         - Caroline A. (Madison, WI)

Make it the BEST HALLOWEEN EVER!